Bobcat King 3-12X44 SFIR Riflescope Red Green Mil-Dot Reticle Airsoft Optical Sight Tactical Scope
Why Buy From Gearhunting?
Gearhunting.com combines expert-level knowledge of the current optical technology with an enthusiasm for the outdoors. We established our site to create the most effective destination online to find out about and also buy Night Vision, identifying ranges, Infrared Digital Monocular, red dot sight, rangefinders, rifle extents, monocular and binocular.
We strive to offer the absolute best selection of quality products you'll find anywhere. If you're looking for quality hunting equipment at good prices, you've come to the right place. You're certain to find great products, great value, and great service at Gearhunting.com
If you have the bulk order request, please click here for further discussion.
Bobcat King 3-12X44 SFIR Riflescope Description:
| | | | |
| --- | --- | --- | --- |
| Brand: | Bobcat King | Zero Lock: | YES(Lock=Down) |
| Model: | BK 3-12X44 SFIR | Field Of [email protected](Ft): | 36.7-9.2 |
| Magnification: | 3-12X | Eye Relief: | 3.93in-4.33in(100-110mm) |
| Objective Diameter: | 44mm | Verlichting: | JA (R & G met 5 posities) |
| Tube Diameter: | 25.4mm | Coating: | Full Multi-Green Coated Opties |
| Reticle: | SFIR MIL | Click Adjustment Value: | 1/4MOA |
| Focal plane: | Second focal plane | Product Length: | 325mm |
| Adjust Focus: | Side Parallax | Weight: | 625g |
Purchasing instructions for Brazilian customers:
According to Brazil's local customs policy, customers must have basic customs clearance capabilities, and need to go to the local customs to pay customs duties to collect the goods! If the above conditions cannot be met, please do not place an order! Otherwise, you may not receive the goods! Thank you!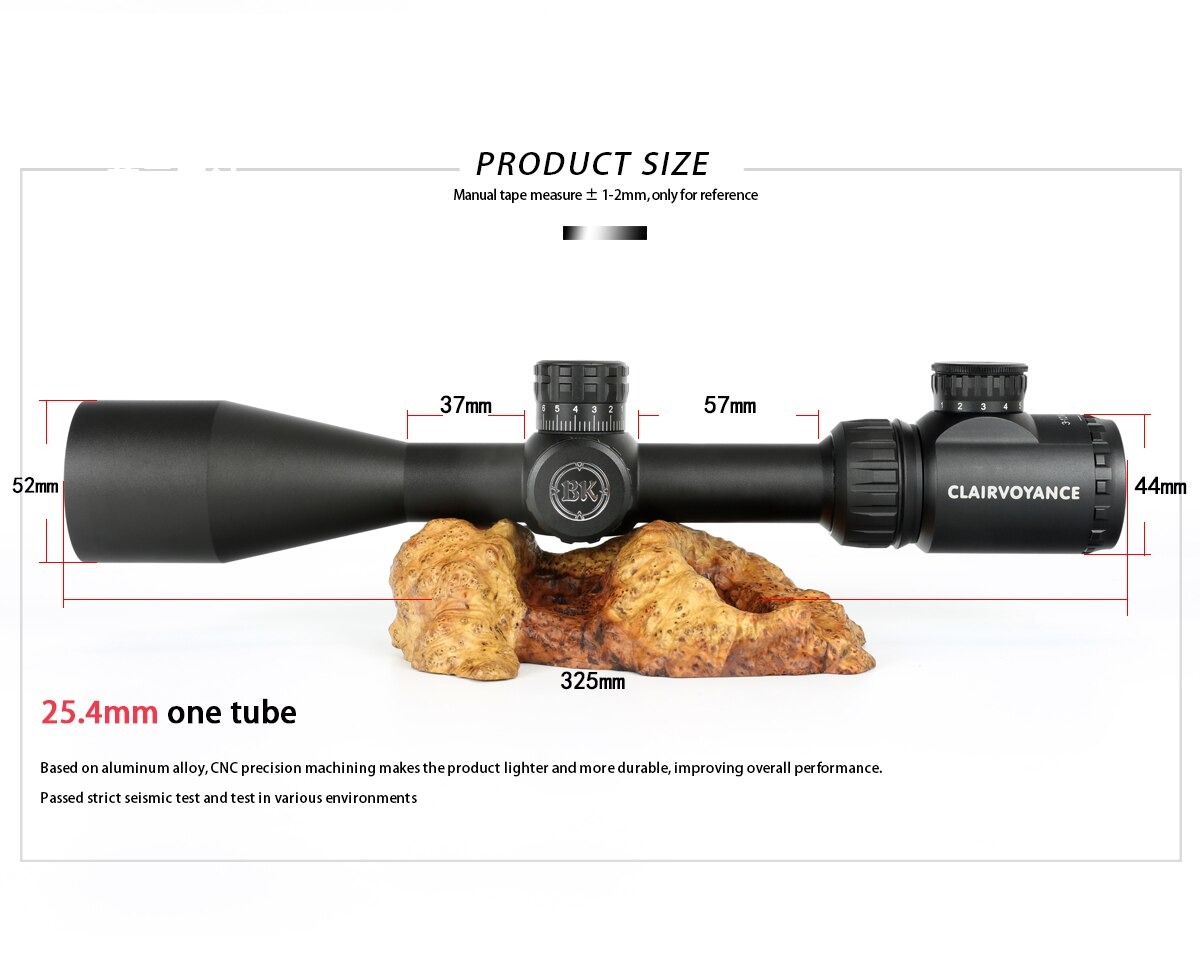 GearHunting can provide you two years factory warranty. We believe that's a result of our great products, superior customer service, and loyal customers. Most importantly, our customers come first. We know you take hunting seriously, and that's why we provide warranties that really mean something. So, to our long-time customers: Thank you for demanding our products.
If you have a large order and also various other concerns, please do not hesitate to contact us, we will reply to you in 24 hours. Many thanks for buying with us!