WildGuarder NV3180 Night Vision Binoculars 4x Digital Zoom 300M Full Dark View Range 720P Video Recording Hunting Camera
GearHunting.com-No matter what you're hunting, how you're hunting, or your level of expertise, GearHunting can get you the gear you need to help ensure success on your next hunting trip. We carry a wide assortment for hunting trips. Whether you need to replace or upgrade some hunting equipment gear, or you're just getting into the game and need a full setup to get started, we're here to meet your needs.
Main Features of  WildGuarder NV3180 Night Vision Binoculars:
IR Night Vision(Manual): Up to 300 yards observing distance in full darkness
Three Practical Functions: 1280×960 photos, 720P videos capture, and playback
Powered with 6Pcs AA Batteries: provides 6-8 hours recording time
Comes with 2.3 inch Screen: More comfortable view and no harm to your eyes.
Storage Media: TF card, support up to 32G(not included)
WildGuarder NV3180 Night Vision Binoculars Specification:
200-300 meters all-black observation distance
3m~infinity Weak light observation distance
2.31" HD TFT,With 3 times large window magnifier
1M(1280×960)、VGA(640×480)
960P(1280×[email protected] )、720P/30fps、VGA/30fps
3MP CMOS SENSOR
FOV=10°,f=24mm
9V;6*AA power supply
up to 32G TF card
Main USES: hunting, Scouting, security and surveillance, camping, cave exploration, night fishing and boating, wildlife observation and
photography,etc.
Accessories:
Night vision binoculars x 1
Shoulder strap x 1
USB cable x 1
User manual x 1
Carrying bag x 1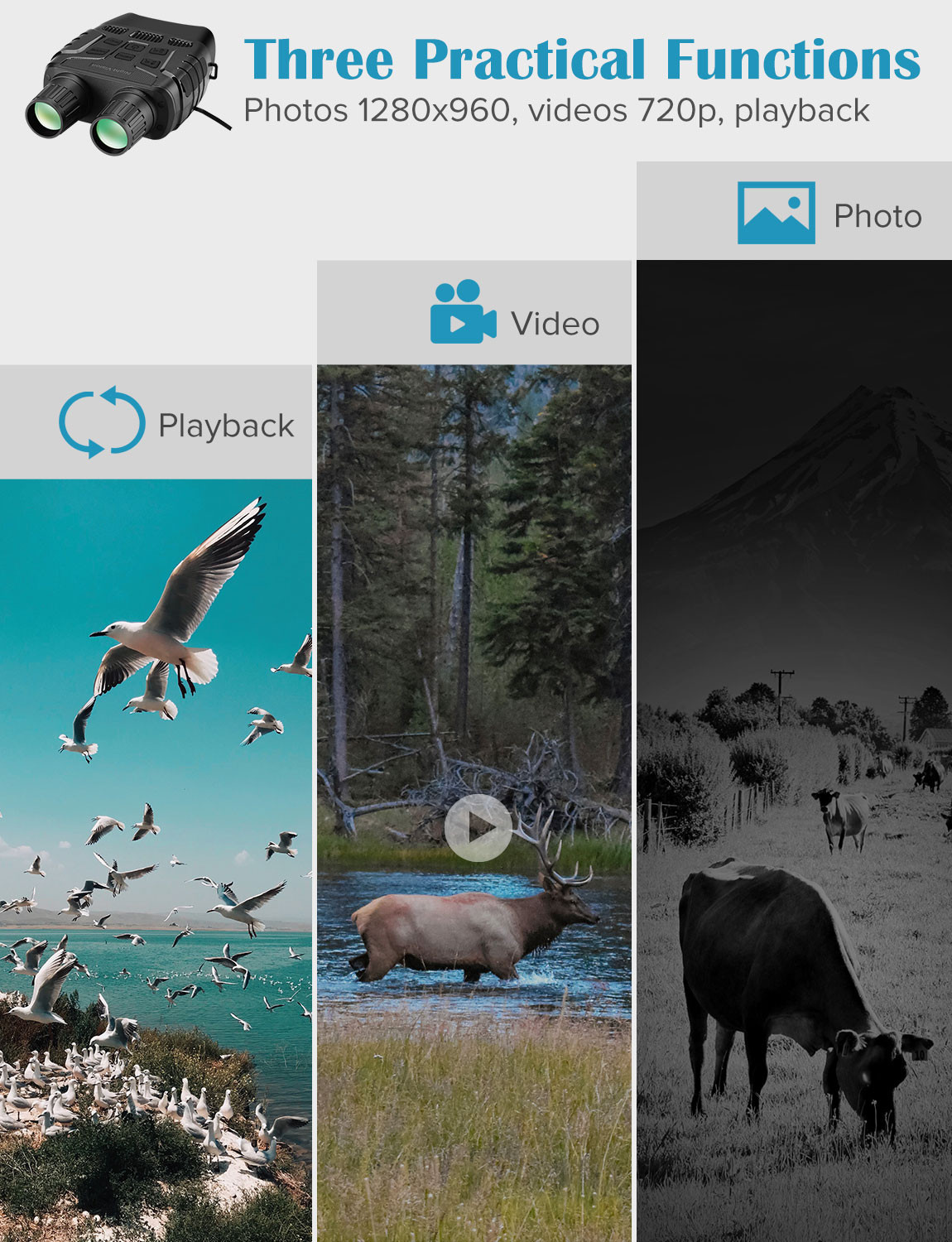 GearHunting can provide you two years factory warranty. We believe that's a result of our great products, superior customer service, and loyal customers. Most importantly, our customers come first. We know you take hunting seriously, and that's why we provide warranties that really mean something. So, to our long-time customers: Thank you for demanding our products.
If you have a large order and also various other concerns, please do not hesitate to contact us, we will reply to you in 24 hours. Many thanks for buying with us!